Disclaimer: All Products in the following reviews were provided to me free of charge in return for my honest reviews, they are as follows....
Airheads Candy Crafts
This product review was fun, not only did I get a bunch of wonderful Airhead candy for free, but they also sent me some crafting tools to use to make some fun #airheadscrafts with my son, here is some fun edible decorations that we made for some Christmas cupcakes!
Advil Sinus Congestion & Pain
Advil Sinus Congestion and Pain's packaging was very informative, it gave you enough information to make a informative decision about the product, I liked that it was a one table dose and it was coated, which made it easy to swallow, I also liked that it contained P
henylephrine, which works just as good for my sinus congestion as pseudoephedrine without having to visit your local pharmacy and sign your life away and show ID because of much needed Meth laws, it also contains Ibupuprofen, which is an NSAID (non-steroidal anti-inflammatory) that helps relieve sinus swelling, headaches, fever and body aches.
It is definitely a product that I would recommend!
Click here for more info & $1.00 off Coupon:
http://h5.sml360.com/-/1c87s
#advilatwork
Centrum Vitamints
The Centrum Vitamints packaging was bright and eye catching, it made the product look tasty and it was informative. The product itself was nice, in that you could chew it like a refreshing mint without having the have water, I thought it was a good idea, however I thought the mint taste was a little strong, but I guess that is better than tasting a vitamin taste, The Centrum brand has always been a trusted source of vitamins and I would recommend this product for it's over all benefit and ease of use. #centrumvitamints
Gorilla Packaging Tape
I received the Gorilla © Packaging Tape from Smiley360 for free to review and give my honest opinion of it's performance and packaging.
First off, the dispenser is very durable and designed well, easy to use and fits great in your hand comfortably. The Gorilla © Packaging tape itself, is one of the most durable tapes that I have ever used, it sticks the first time every time with #just1strip it stays in place, it is very durable and reliable. I would recommend this product to anyone who is moving or in need of a good, durable packaging tape that will perform well!
Purina One Dog Food
I received the Purina One 28 day challenge from Smiley360 *free of charge to review. My dogs seem to really like the taste of this product, they ate it right up without any hesitation, they both seem to have shinier, healthier coats and have more energy too! I think I will be switching to this dog food in the near future!
If you would like more information about the Purina One 28 Day Challenge [While supplies last]
visit Smiley360
Emergen-C Products
I received my Emergen-C kit from Smiley360 today to do a product review on. It came with five different flavors to try**.
1. Strawberry-Kiwi: Had a good, sweet taste with a fizz that I didn't find appealing, but others may enjoy, it was my favorite flavor out of all the flavors I tried.
2. The Emergen-C Immune+ (warmers) in Berry Medley didn't taste good to me, however I have never liked blackberry/blueberry flavors. The fact that you drink this drink warm would be nice if you had a sore throat however.
3. The Emergen-C Immune+ in Citrus was good, not as tart as I expected (as with all the flavors, I could have done without the fizz)
4. The Coconut-Pineapple was good as well, it had a nice flavor, not too sweet, not too tart
5. The Super Orange flavor was a great blend, not too hard to drink at all.
The packaging on these products are bright and colorful and designed to make the product look very appealing. I would recommend this product based on look and taste as far as it "working" I haven't tried it long enough to see any results yet!
If you would like a free sample to try for yourself, click Here for free sample and for a $1.00 off coupon, Click Here for coupon
** All products sent to me for testing/review were provided free of charge from Smiley360.com and all reviews are my own and do not necessarily reflect to views or opinions of others
***************************
Arm & Hammer Baking Soda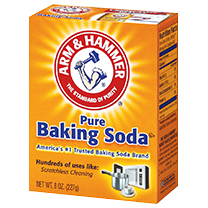 This product has been a staple in our home for many years, as a child it was used in our home to keep the fridge smelling fresh and to brush our teeth with. Today, I use it to polish up fixtures in the bathroom, to freshen up the laundry, to make my jewelry shine and yes, to still keep the fridge smelling fresh. It is very practical and very inexpensive, around $1.00 a box! Now, that is a good deal!